أفضل برنامج لازالة الاوتورن للابد من جهازك Alfa Autorun Killer 3.0.7
Alfa Autorun Killer 3.0 , the latest version of the famous software that helped millions of people around the world protecting their USB flash Memories and their PCs from the dangerous viruses.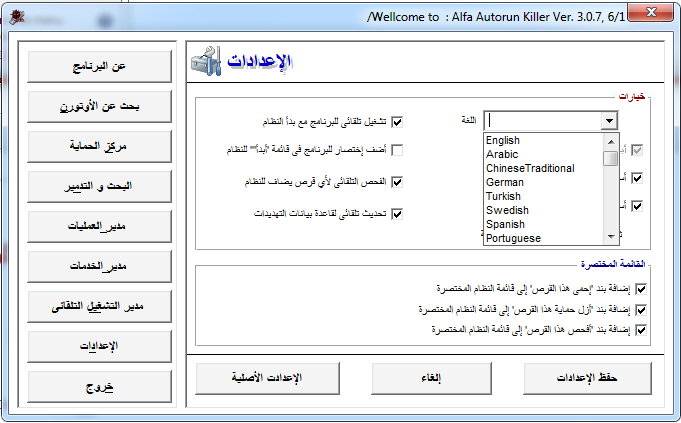 Features : ( 28 New )
1-Scanning ,and clean (or at least try to clean) system infection by autorun threats including viruses,worms,and adwares.
2- Scanning hard disk partitions and removable disk for autorun threats and neutralize it.
3- The ability to remove the infected files to recycle bin to restore it on error, or peremptory delete it.
4- detect known -by autorun threats database- and unknown autorun threats. (New)
5- Scanning registry for autorun threats entries and neutralize it.(New turbo search)
6- Fixing the infected registry by the autorun and reset it, such as task manager , registry editor , show hidden files , ..... etc.(New)
7- Reset the infected services the some threats stop it for stealth.(New)
8- Unlocking the infected files if locked to delete it on fly. (New)
9- Updatable autorun threats database online to detect new threats - or by user- . (New)
10- Immunize your system against autorun threats by three levels.(New)
11- Immunize your hard disk or removable disk against autorun threats. (New)
12- Support Fat,Fat32,NTFS,EXT format. (New)
13- Support Windows NT , Windows 2000,Windows XP, Windows Server 2003, Windows Server 2007,Windows Vista,and· Windows 7. (New)
14- Auto detect plugged and unplugged disks.(New)
15- Auto Scan any plugged disk.(New)
16- Right click context menu for each disk for protection, remove protection, or scan.(New)
17 - Full report for the computer and the disk status.(New)
18 - Auto update the threats database on startup .(New)
19 - Smart comparison system files by size and binary data .(New)
20- Tray icon style with right click context menu for fast options.(New)
21- Detect win32-Xorer virus , and fake folder worms , and reset the folder status.(New)
22 - Auto update - or by user - the scan engine.(New)
23- Tray icon massage style, to notify the user for update,threats, and the program status.(New)
24- Auto detect the disk type and disk status. (New)
25- More the 21 methods for analyze the autorun files (New)
26- Search and destroy feature ((for advanced users)) to find files by the same binary data for suspicious files, with built in· file unlocker to unlock and access locked files. (New)
27- Processes Manager model ((for advanced users)) to control system processes, with the ability to detect the real name and the real path of the running process even if it have a system mask.(New)
28- Services Manger model ((for advanced users))· to control the system services on fly (Enable,Disable, and the run way). (New)
29- Startup Manager model ((for advanced users))· to control the startup programs (Stop,Add new, Remove,..) with the startup folders or registry keys for the current user or all users. (New)
30- Program control panel to control the program behavior.(New)
31 - Auto start the program option for maximum protection. (New)